UEFA Euro
2020
UEFA Euro 2020 will be played in 13 cities across Europe. No team will be qualified as a host, so all UEFA members will play qualification.
20 teams will qualify for EURO via classic qualification and another 4 teams will qualify via newly founded UEFA Nations League.
Play-offs
If you want to see details about whole qualification, visit UEFA Euro 2020 qualifiers page. Following picture shows Play-offs details: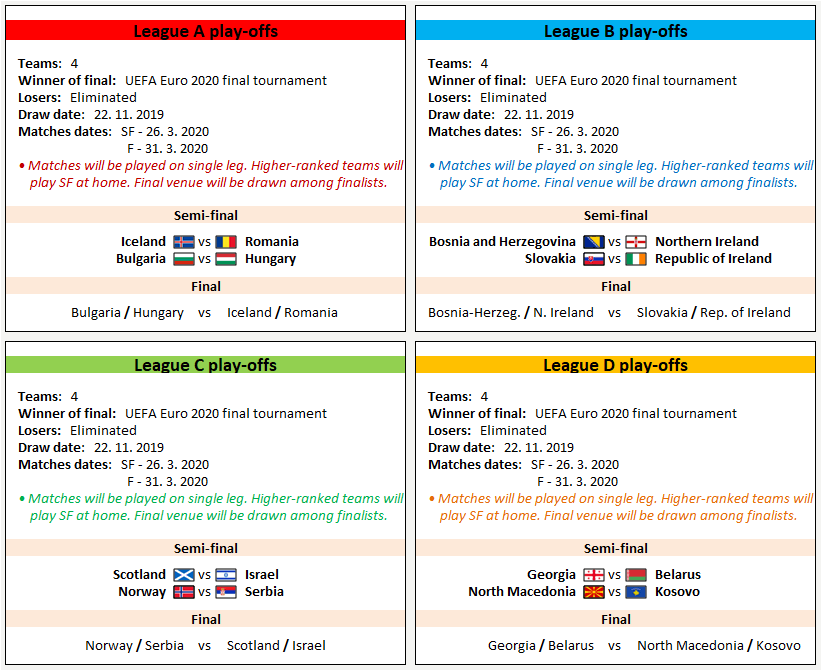 Since there were 7 teams in League C play-offs (including Nations League group winners), a draw determined that Israel would stay in League C PO and rest three teams (Bulgaria, Hungary and Romania) will play League A PO.
Final Tournament

Format of final tournament remains same like at Euro 2016 (24 teams in six groups by 4 teams, 16 teams qualify for round of 16). Max. 2 host teams will play in same group. Host teams will play 2 or 3 matches in group stage at home field. Hosts qualified directly will play all 3 matches at home field (Italy, Netherlands, England, Spain and Germany). If both hosts in a group qualified directly or both qualified via PO (it is case of group B), the draw will decide which team (Denmark) will play 3 matches at home. Stadiums and number of hosted matches (HM indicates playing all 3 GS matches at home):

Seeding
Seeding for the final tournament group stage draw will be based on the overall ranking in the Euro 2020 qualification (this means that National Ranking UEFA will not be used anymore). Criteria to determine overall ranking position:
1) position in group 2) higher number of points 3) superior goal difference 4) higher number of goals scored 5) higher number of away goals scored 6) higher number of wins 7) higher number of away wins 8) lower disciplinary points (RC - 3 points; YC - 1 point; two YC resulting in RC - 3 points) 9) position in the overall Nations League rankings. Except rule no.1 (position in group) - results against 6th placed team in the group are discarted.
The teams of the host associations, if they qualify or could qualify via play-offs, are drawn into groups in accordance with the host city pairings. If it is not possible to finalise the group formations at the time of the final tournament draw (30.11. 2019, i.e. after end of qualification, but prior the play-offs), an additional draw is held after the play-offs matches have been completed.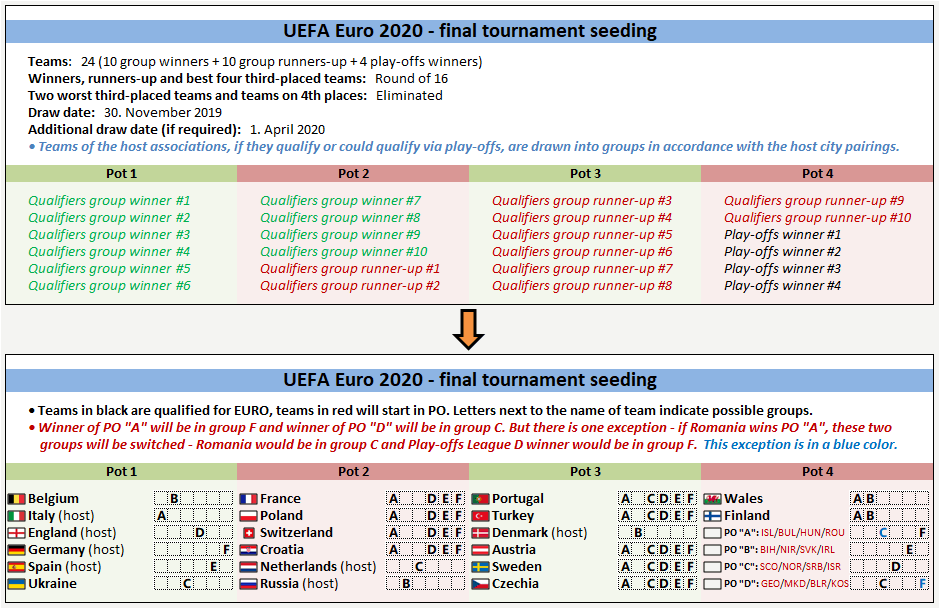 Result of draw

Please note - the positions in the group of each team will be drawn. For example Italy can be A1, A2, A3 or A4.
Each team plays each of the other teams in the same group once, according to a league system (3 points for a win, 1 for a draw and 0 for a defeat). Top 2 teams from each group and best 4 third-ranked teams qualify for knockout stage. If there is no winner at the end of the normal time in knockout stage, two 15-minute periods of extra time are played. If there is still no winner after extra time, kicks from the penalty mark are required
Tiebreakers: If 2 or more teams are equal on points, 1st tie-breaking criteria are matches between teams in question (1.obtained points; 2.goal difference; 3.higher number of goals scored). 4. if teams still have an equal ranking, criteria 1 to 3 are reapplied exclusively to the matches between teams in question to determine their final rankings. If teams still have an equal ranking, another tie-breaking criteria are all matches in group (5.goal difference; 6.higher number of goals scored; 7. higher number of wins). 8. if only two teams have the same number of points, and they're tied according to criteria 1–6 after having met in the last round of the group stage, their ranking is determined by penalty shoot-out. 9. fair play (yellow card: 1 point, red card: 3 points); 10. position in qualifiers.
Best third-ranked teams are determined according to the following criteria: 1. obtained points; 2. goal difference; 3. higher number of goals scored; 4. wins; 5. fair play; 6. position in qualifiers. Options for round of 16 pairings, depending on which third-placed teams qualify from groups: