UEFA Nations League




2018/2019
UEFA Nations League is new competition of the European national teams (UEFA members), which will replace most international friendlies. First season will be held from September 2018 to June 2019 and four teams (one from each League) will qualify for UEFA Euro 2020.
Format
All UEFA members were divided into four Leagues, pot allocation was based on National Ran king UEFA 2017 - best 12 teams were drawn into League A, another 12 teams into League B, following 15 teams into League C and worst 16 teams into League D. All teams in each group will play twice (at home and away) against each other, so each team will play 4 or 6 matches in group phase. Result of group phase (played in September, October and November 2018) will be important from following reasons:
All group winners will promote to the higher League for the next Nations League season. Group winners in League A will play 'UEFA Nations League Finals' in June 2019 (SF pairings will be drawn). Nations League Finals will be played on single match. Host country of all Finals matches

(2x semi-finals, third-place match and final)

will be appointed by UEFA in December 2018 from among the finalist teams.

All last-placed teams from all groups will relegate to lower League (of course, last-placed teams in League D stay in this League).
Overall ranking of all teams after end of group stage will decide seeding of teams to pots before draw of classic qualification of

UEFA Euro 2020

. Within each League (A, B, C and D), the overall ranking will be calculated based on position in the group then points, goal difference, goals scored, away goals scored, wins, away wins, disciplinary points (red card 3 points, yellow 1 point, two yellows 3 points), coefficient ranking.

Each League has guaranteed one spot at UEFA Euro 2020 final tournament. So after end of classic qualification (played from March to November 2019), best four teams from each League, which didn't qualify for UEFA Euro 2020 final tournament via classic qualification, will start in play-offs (played on single match) in March 2020. Please note that UEFA Nations League Finals isn't part of qualifying process, so the League A teams will also start in play-offs in March 2020.

Play-off slots are dropped down to lower Leagues if less than four teams remain available for a play-offs. Best-ranked team will play against fourth best-ranked team and second best-ranked team will play against third best-ranked team (higher-ranked teams play semi-final at home field, venue for the final will be drawn in advance between the two semi-finals' winners). Winners of all four play-offs will qualify for Euro 2020 final tournament.
Seeding
As mentioned above, seeding to the drawing pots was based on National Ranking UEFA 2017. There will be four groups by 3 teams in Leagues A and B, three groups by 4 teams and one group by 3 teams in League C and four groups by 4 teams in League D. Following picture shows drawing pots.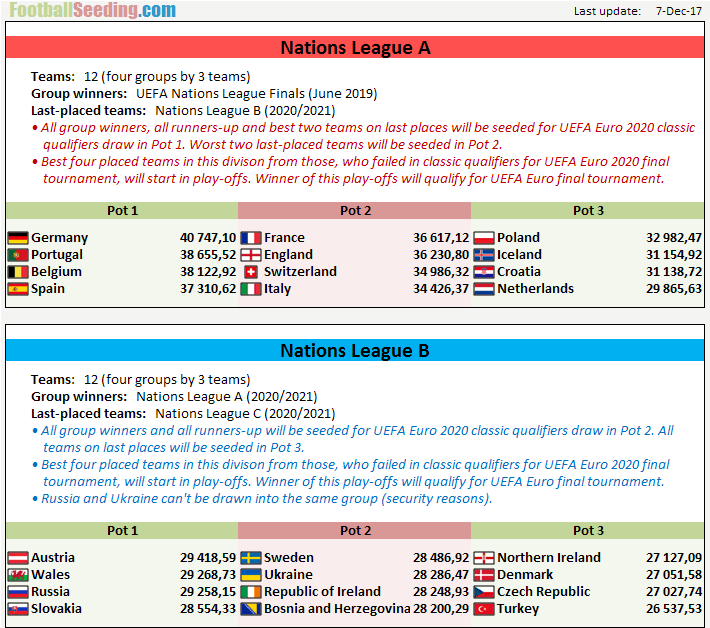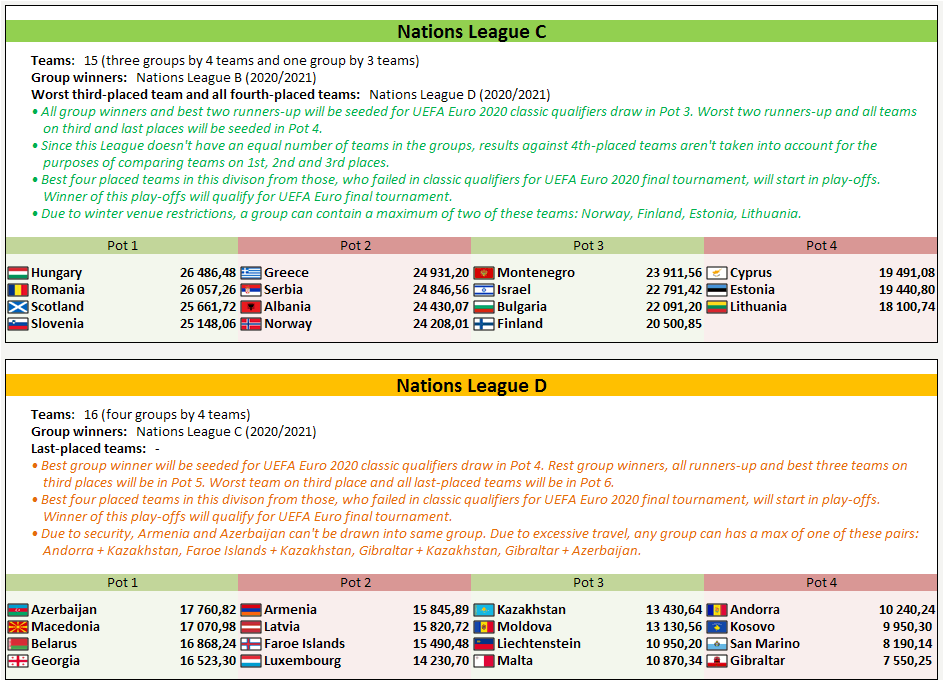 Result of draw
The draw took place on 24 January 2018. If you want to see exact dates of matches, visit UEFA Euro 2020 or calendar.