Biggest surprises in Group Stages
29/12/2018 01:41
Let's take a short break from the analysis of the associations - it's time to focus on the biggest surprises in the groups. This article is going to show you the biggest Group Stage upsets in every European season in last 20 years.
Advances of the unseeded teams
First part of this article is focused on the unseeded clubs, which have advanced for the next round. Left side of the following table is showing the clubs with smallest coefficient in a given season, which has won the group (progressed for the next round from the first place). Right side is very similar, but it shows clubs with smallest coefficient in a given season, which have progressed for the next round from any place (1st or 2nd, or 3rd in case of UEFA Cup).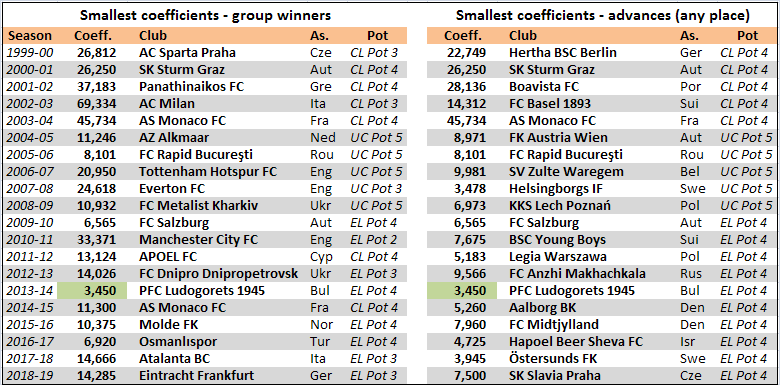 We can see that the biggest (positive) surprise is result of PFC Ludogorets 1945. This Bulgarian club from Razgrad won Group B in UEFA Europa League season 2013/14 with coefficient 3,450! It's really hard to imagine that some team will be able to win the group (or progress from any place) with smaller coefficient! By the way, Ludogorets won a group ahead of FC Chornomorets Odesa, PSV Eindhoven and GNK Dinamo Zagreb (with record 5-1-0).
Biggest upset in UEFA Champions League Group Stage happened one year later. In Champions League season 2014/15, AS Monaco FC won a group with coefficient 11,300. The opponents were Bayer 04 Leverkusen, FC Zenit and SL Benfica. Monaco is also the only club, which is listed more than once in our table (this French club is listed also as a GS winner with smallest coefficient for season 2003/04).
If we focus on the associations, Austrian and English teams were listed a three times, Czech, Danish, French, German, Italian, Polish, Swedish, Swiss and Turkish teams were listed twice.
Eliminations of the seeded teams
Second part of an article shows biggest (negative) upsets in Group Stages. As you would expect, left side of the table is focused on the teams with biggest coefficients, which have finished on the last place in the group. Right side of the table shows eliminiated clubs with biggest coefficient regardless of whether they have finished last or second to last.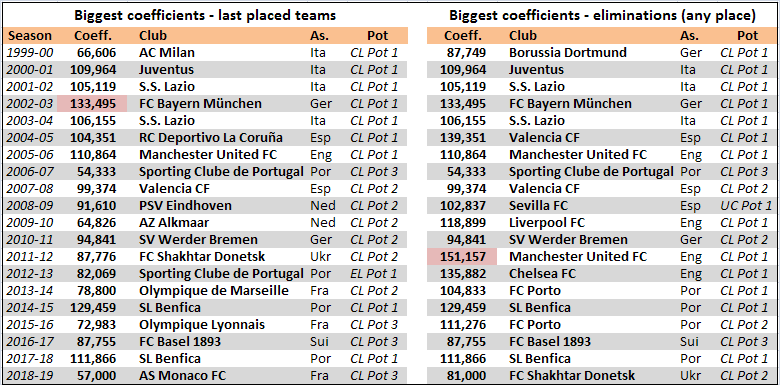 Elimination of Manchester United FC in UEFA Champions League season 2011/12 is biggest (negative) surprise in Group Stages. With coefficient 151,157 - Manchester United was number one in Club Ranking before season 11/12, but SL Benfica and FC Basel 1893 finished above this English giant.
If we look at the last placed teams, the biggest shock was the elimination of FC Bayern München (coefficient 133,495) in UEFA Champions League season 2002/03. Bayern finished behind AC Milan, RC Deportivo La Coruña and RC Lens with only two points.
Italian team S.S. Lazio and Portuguese rivals SL Benfica and Sporting clube de Portugal are the only teams, which have finished last in group (with biggest coefficient from all last-placed clubs in a given season) more than once. Moreover, third Portuguese giant, FC Porto, is also listed twice (regardless of the final position). Same applies for FC Shakhtar Donetsk, Manchester United FC and Valencia CF.
Within the associations, most unlucky are the clubs from Portugal, because Portuguese teams are listed six times. English, Italian and Spanish teams are listed four times, French and German clubs three times.
By the way, AC Milan, AS Monaco FC and AZ Alkmaar are the only clubs, which are listed in both tables - as the unseeded winner of a group and as the seeded last-placed team. Also FC Basel 1893 is listed twice (see seasons 2002/03 and 2016/17).
If you wish to purchase all of our statistics - in several big spreadsheets (comparable, sortable and filterable by all associations, clubs, rounds, seasons etc.) - contact us.
If you wish to use this article in your article, you are free to do so (just mention FootballSeeding.com as a source).